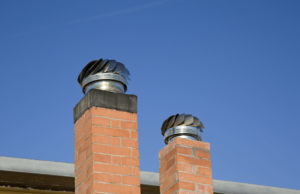 The average homeowner might be surprised to learn that there is a wide variety of chimney types. Underneath the main categories of masonry and metal, you will find prefabricated types as well as single or double-walled chimneys and more. But if you want to know more about the fundamentals of chimneys, the best place to start is by noting the main differences between a traditional masonry chimney and a metal one.
Masonry Chimneys
These are the classic chimneys that most people think of. A masonry chimney is constructed of brick, though it can also include different types of stone. They are usually anchored right into the house, giving it a nice silhouette. In addition to aesthetic appeal, masonry chimneys add a lot of property value to a home, and they are durable and reliable. The only real downsides to masonry chimneys come with the construction process. Because they are so heavy, construction can be long, difficult, and expensive.
Metal Chimneys
There are many sub-categories for metal chimneys, but most of them are prefabricated in a factory and then assembled on site. Metal chimneys tend to look like a round or rectangular tube with a cap or damper on top to keep out animals and debris. In addition to being convenient and quick to install, you can get various customization with your metal chimneys, such as having it double-walled for better insulation and energy efficiency. But, unlike a masonry chimney, the metal chimneys have a short lifespan and will probably need more frequent repairs.
Choosing a Chimney
If you are looking to install a chimney in your home, consider the pros and cons when deciding between masonry or metal. Some houses can't accommodate a masonry chimney, usually because it would be extremely costly to reconfigure a significant area of the house in order to support the weight. If you are in this position, then it's up to you to decide if the long-term benefit of a masonry chimney outweighs the cost, or if you would be just as happy with one of the many options for a metal chimney instead.
Check out Champion Chimneys!
Champion Chimneys, Inc. is a fully licensed, bonded, and insured chimney service company that has been serving customers in Baltimore County, Howard County, and Anne Arundel County, Maryland since 2001. Our team is trained and certified by Certified Chimney Professionals, Inc. (CCP, Inc.). Courteous service is our trademark, and our crews arrive on time in uniform, driving fully equipped trucks. We specialize in all aspects of your chimney system. Whether you need chimney and flue cleaning service or a full chimney rebuild or inspection, contact us at  443-Chimney today and let us fix all your chimney problems. Also, follow us on Facebook, Twitter, LinkedIn, and Pinterest.