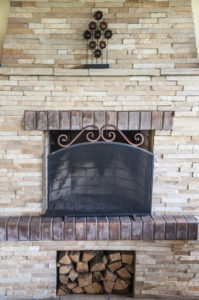 A clean fireplace permits property holders to have genuine feelings of serenity. They have to guarantee everybody is safe whether or not their fireplace is being used. Similarly with some other home appliances you have, a fireplace requires legitimate care and maintenance to irrefutably ensure that it works appropriately when you need it. But unlike a typical home appliance, a fireplace can be hurtful when not appropriately cleaned. Here are some noteworthy reasons why having both a clean chimney and fireplace turns out to be so significant.
Annual Cleanings
One of the first and possibly most basic things you can do to enable your fireplace to remain clean and in good condition is to have an annual fireplace cleaning. Having your fireplace cleaned by an expert once a year can have a critical effect on the general fireplace and how it functions. Most fireplace debacles commonly happen because homeowners were not having them cleaned as regularly as they should. An annual fireplace and chimney inspection is what the National Fire Protection Agency suggests and has emphasized in their rules. These inspections will permit homeowners to comprehend if their fireplaces and chimneys require any extra care other than one annual cleaning.
Keeping it Clean
It's feasible to keep up a clean chimney and fireplace. One approach to keep your chimney clean is just to burn seasoned wood. This means you ought to stay away from green wood, which will, in general, produce more smoke than seasoned wood does. On the off chance that you wind up doing some chimney cleaning on your own, consistently be mindful so as to just utilize items that are made for chimney purposes explicitly. Or, you could wind up doing much more damage than anything else. Every fireplace and chimney requires a yearly cleaning and inspection for adequate care. Having an expert examine and clean your fireplace and chimney once a year is an ideal approach to guarantee a safer home all around.
Call the Experts at Champion Chimneys Today!
Champion Chimneys, Inc. is a fully licensed, bonded and insured chimney service company that has been serving customers in Baltimore County, Howard County, and Anne Arundel County, Maryland since 2001. Our team is trained and certified by Certified Chimney Professionals, Inc. (CCP, Inc.). Courteous service is our trademark, and our crews arrive on time in uniform, driving fully equipped trucks. We specialize in all aspects of your chimney system. Whether you need chimney and flue cleaning service or a full chimney rebuild or inspection, contact us at  443-Chimney today and let us fix all your chimney problems. Also, follow us on Facebook, Twitter, LinkedIn, and Pinterest.