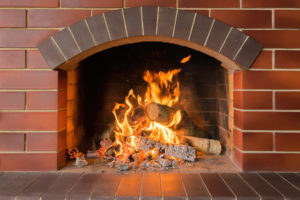 Looking to get a new fireplace? Choosing the right one for you can be a challenge; we will discuss each type of fireplace to help you decide which one may be right for you before winter rolls around can help you plan in advance. Having a brand new fireplace during the colder months can be a huge benefit, but it's important to plan ahead. Here are three kinds of fireplaces worth considering from us here at Champion Chimneys.
Wood-burning
This type of fireplace is a classic. It is the oldest and most traditional option out of the four. No other can compare to the distinct look, smell, and sound of a wood-burning fire. However, this type does require the most upkeep and maintenance. Wood-burning fireplaces also require storage for logs or trips to the store for firewood. To ensure safety, it is necessary to have a screen when using a wood-burning fireplace to protect you from burning embers. Lastly, it is important to note that wood-burning fireplaces can lose more heat through the chimney than what they create. If there is a gas starter, your fireplace can be easily converted from wood to gas by adding gas logs.
Gas
Instead of wood, a gas fireplace burns natural gas. Much like a traditional wood-burning fireplace, vented gas fireplaces are constructed with a firebox that is vented through the chimney. Vented fireplaces allow for a variety of different burning elements such as ceramic logs that have the appearance of real burning logs or flames that come through glass beads that have a more modern look.
 Direct vent fireplaces and ventless fireplaces are two other types of gas fireplaces. Direct vent fireplaces do not require a chimney and the flames are kept behind glass, which allows a large amount of heat to be emitted without losing warm air up the flue. Since ventless fireplaces do not have a vent, they are able to be placed on any internal walls with a gas source. In addition, all of the heat from the ventless fireplace remains inside the home. 
Electric
Electric fireplaces are the most cost-effective of the options and can be easily incorporated into any space. This type of fireplace is all about functionality; all you need to do is follow the instructions regarding placement and plug it into an outlet. Electric fireplaces come in a variety of styles to match the decor of your home and can add ambiance without costing a fortune. 
Don't Be in Despair If Your Chimney Needs Repair
Champion Chimneys, Inc. is a fully licensed, bonded and insured chimney service company that has been serving customers in Baltimore County, Howard County, and Anne Arundel County, Maryland since 2001. Our team is trained and certified by Certified Chimney Professionals, Inc. (CCP, Inc.). Courteous service is our trademark, and our crews arrive on time in uniform, driving fully equipped trucks. We specialize in all aspects of your chimney system. Whether you need chimney and flue cleaning service or a full chimney rebuild or inspection, contact us at 443-Chimney today and let us fix all your chimney problems. Also, follow us on Facebook, Twitter, LinkedIn, and Pinterest.